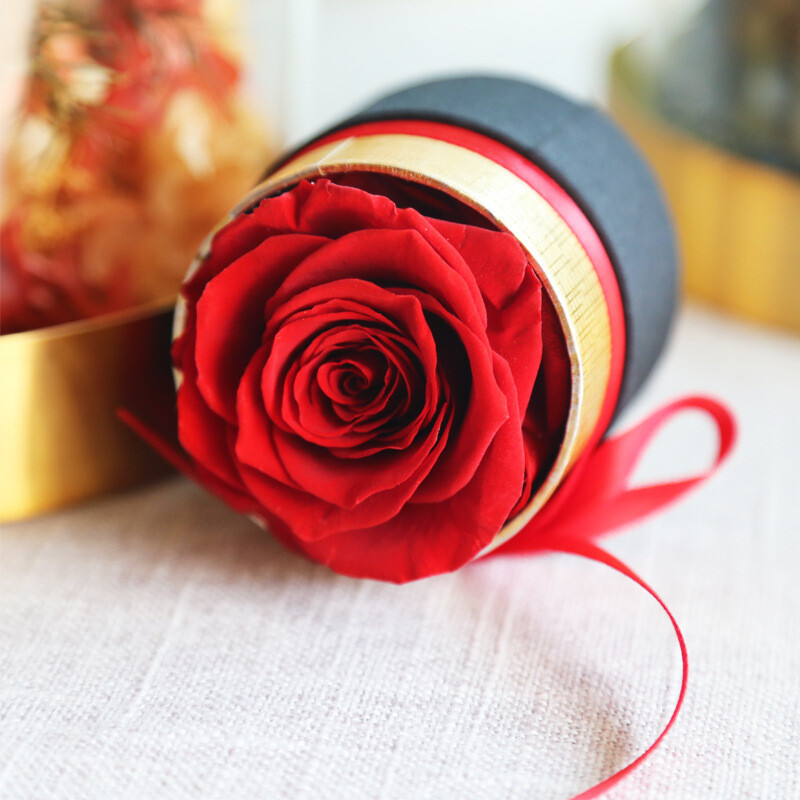 1 Petite My Forever Rose (Available for pick up on 2/11/2020)
SKU MFR1
Product Details
The Petite My Forever Rose requires No Water, No Sunlight, and Lasts 365+ Days.
4" x 4" x 3" in. Magnificent Rose Box includes 1 Single Preserved Roses
Each Single Preserved Rose measures 2"
*Do not remove roses out of the box.
Roses symbolize love and affection for the people in your life. However, their beauty doesn't last forever, which begs the question, why is one of the most iconic symbols of love so short-lived? We wanted to create a rose that can stand the test of time, and will truly represent how strong and everlasting your love for another person can be. The result is our gorgeous MyForeverRose.
What are MyForeverRoses?
The MyForeverRoses come from the lush, vibrant rose fields of Colombia. Each rose is carefully cultivated until it reaches a full bloom. Once the roses are at their peak, they are picked and shipped to our facility in Baytown. Our farm in Colombia typically grows red roses, so when the roses arrive, their color is removed using a non-toxic bleach. From there, each rose is treated with a formula made from non-toxic and non-allergenic wax, as well as natural oils. This formula is similar to silica and effectively dehydrates the roses to help preserve them. Once the dehydration process is complete, the roses soak in dye to give them the bright and vibrant colors you've come to expect from our gorgeous MyForeverRoses.
Do MyForeverRoses really last a year?
Everyone loves receiving a bouquet of roses from a friend, a family member, or a loved one. However, store-bought roses typically only last a week before they begin to wilt and have to be thrown away. Utilizing the process described above, our MyForeverRoses will last a year or more with proper care, allowing you to enjoy their beauty month after month. With that in mind, the beauty and elegance isn't the only thing people love about roses. They also love the smell!

The smell of roses is a wildly popular scent, whether it's used in candles, perfumes, or the flowers themselves. With our MyForeverRose, you not only have the benefit of enjoying these roses for a year!
Do you accept returns?
Unfortunately, our arrangements of MyForeverRoses are not eligible for returns. We are able to cancel orders if you contact us within a 24-hour period. However, if you contact us too late, or your order is already in progress, then we will not be able to cancel your order. If you have ordered an arrangement of MyForeverRoses for same-day delivery, those orders cannot be canceled under any circumstances.

Our hope is that you (or another recipient) falls in love with your gorgeous arrangement of MyForeverRoses. If you have any questions about our return policy or our arrangements, please don't hesitate to call Robson's Jewelers today! 832-597-9934
How To Care For Your MyForeverRoses
DO NOT Water the roses!
AVOID direct exposure to sunlight.
Keep the arrangement in a room-temperature environment.
If dust collects after a few months, remove it lightly using a duster.
DO NOT place anything onto the roses as they can crush and damage the roses.
DO NOT remove the roses from the box; they are secure and happy there.
The lid is meant to stay on the side or bottom of the box.
Be mindful when carrying the arrangement: it's a very delicate product!
Save this product for later